Cam McKegg – as good as it gets….

Cam #campbellmckegg is a Raglan regular – he lives there and loves it and raised his beautiful family there. I was chatting with Cam and my friend Hamish, Cam's father, in New Zealand about the advanced tech we were trying to put into our boards. Nothing new, they thought, nothing revolutionary that wasn't on the market in New Zealand.
I'd been one of a handful of surfers who made Raglan my home in the early 60's. We surfed in rugby shirts then, to still the chill from those southerly offshore winds, and rode Bob Davies "new age" boards – thick round tails, shorter before their time. Manu Bay and Whale Bay took up so much of my childhood – until going left didn't do it anymore and I left for Jeffrey's Bay. Cam has that same stoke, the same love of the very beautiful and consistent Raglan. Cam is a great surfer – understated but powerful, instinctive. He loves tubes. He made a classic double page spread in The Surfers Journal from a great day at the Coromandel beach where his mum & dad (and Barb & I) live. Cam knows waves and boards.

The Quiver brand became a vehicle to put materials and tuning into practice. For decades in the 80's and 90's – before carbon became popular – we'd tuned our boards by thinking about flex and how it was both collected and delivered. With the help of some very talented engineers, Quiver became a personal trial vehicle to an end – it wasn't the bread and butter income from the generic boards we had churned out in the thousands (over 35,000) but it had a certain cache and we channeled our part-time interest into them, proving materials  – especially US Blanks – as they came onto the market. (Quiver developed some very interesting custom parabolics). We made a couple of unbreakable boards – a challenge in France that had scoffers jumping from first floors onto boards trying to break them. They didn't. (see video). We still make these special Quiver Surfboards in house – no more than 100 a year, experimenting with various stringers (HD foam stringers with glue variations for example) and other materials. Our newest is a unidirectional S-glass cloth called Kinetiq which imbues superb flex to HD stringered boards, while reducing breakage by 80%.  (Our generic business goes through a nearby factory).
Anyway, long story short, Cam showed an interest in the boards, despite his access to virtually every South Pacific manufacturer. We made him two boards. The promise was our usual one – if it didn't improve your surfing, money back or a new board. Cam didn't like them at first – as we expected. Different, especially Raglan different. Then – fortunately – he realised the boards were going faster and reacting more quickly than he was. A few tweaks and he had them wired, and hasn't been off them since. Two more Quivers – both with HD stringers and Kinetiq cloth – are on a 12,000 mile journey to New Zealand. In the meantime, Cam's been to Samoa for a few barrels to go with his usual ones.
We don't make many of these special Quiver Surfboards. None for stock, none for showrooms, no free boards for riders. From our promise of our money back guarantee we've not had one claim. But we just love the feedback we get – and the chance to review the materials we sell in real life. Its always been the best or nothing.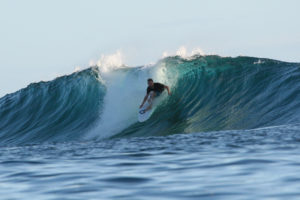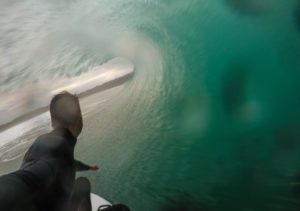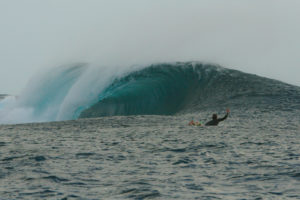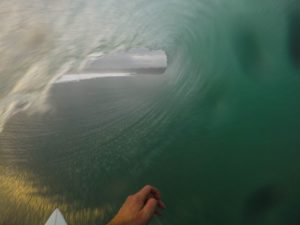 Cam Mckegg on Quiver Surfboards in New Zealand and Samoa. Deep. (See our team. They all buy their boards).