US Blanks 605XEPS THICK (Stringer Options)

This superfused 605XEPS blank has a number of stringer options, including coloured HD stringers. Waterproof and very easy to shape. This is the thicker more versatile (3″) version of the 605EPS, which we do not stock. Designer Comments: "The 'X' is the maximum volume version of the 6'5" Superfused EPS. Designed for versatility to accommodate a wide range of board styles from Fishes to Big Guy Shortboards. Also in a 608X version. See below for stringer options for this board……
Description

This is a range of Eric Arakawa designed thick 605X EPS  superfused Expanded Polystyrene Blank with a number of stringer colour options – waterproof and very easy to shape. The best EPS on the foam market. This is the  thicker (3″) version of the 605EPS which is more versatile. 2.0 pounds per cubic foot equates to 32 kg/m3. 
Designer Comments: "The 'X' is the maximum volume version of the 6'5" Superfused EPS. Designed for versatility to accommodate a wide range of board styles from Fishes to Big Guy Shortboards. The manufacturing process ensures uniform density and fusion throughout, thus allowing the shaper to use the maximum width of the blank if necessary. " At 3" max thickness, this blank is identical to the previous version with 1/4" additional thickness along the entire length. Designed for high-performance Shortboards up to 20-1/4" in width, and will also accommodate small Fish models due to the extra thickness. An ideal blank for machine shaping." ERIC ARAKAWA
See or download the latest US Blanks blank catalogue, stringer configuration information, rocker information, foam choices or foam colour options here.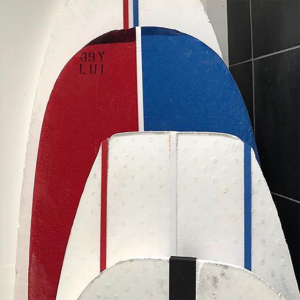 NOTE: This blank has a number of stringer options, including coloured HD stringers.  Click OPTIONS for a range of stringers. 
SUPERFUSED
Overall Bottom Length: 6'5 13/16" (197.64 cm)
Tip-to-Tip Deck Length: 6'4 13/16" (195.10 cm)
Max Width: 20 3/8" (51.75 cm)
Max Thickness: 3" (7.62 cm)
Available Densities: 1.5 PCF & 2.0 PCF
US Blanks – the world's best selling EPS surfboard foam – are without question the strongest, most accurate, most user friendly foam on the market. Surfboards made with US Blanks have the best feel according to all research. The stringers are straight, clean and easy to plane. The foam cleans up so well. The plugs are from the best shapers, bar none. Plus you get custom rockers, coloured foam, coloured glues, a huge range to choice from, and total respect! We've seen foam companies come and go – this is the foam from which all our production is produced, and we recommend (and guarantee) every blank we sell.