Meet Our Shapers; Steve Darch
Our Quiver boards are always made with that personal touch, and our shapers here at Seabase make sure they add their touch of magic to each individual board, making every stick unique and fresh. We have two shapers here; Phil Hodge and Steve Darch. Each have their own defined style and skills, but both equally important in the process of crafting our Quiver boards.
Steve Darch
Brighton born and bred. Raised on shingle beaches and prevalent wind swells, Darchy became a pundit in the matter of crafting boards tailored to all conditions. His talent hails from making boards with his Dad in their garage back in the early 80s. His curiosity was fed by watching his father, who was an engineer at the time, fabricating small elements of wood and fabrics to create anything handmade. Way ahead of their time, the first board they made was a hot-wired 8ft long, high density foam board, glassed with Epoxy SP115 Boat Resin. For the next 10 years, he continued to work his passion by making boards for his mates in his back yard. Now in Newquay, he shapes here at Seabase on our Quiver boards, while intertwining his own brand 'Darchyshapes' into the production.
We caught up with a past customer, Emma, who recently had her board shaped by Steve, who told us how she found her new board.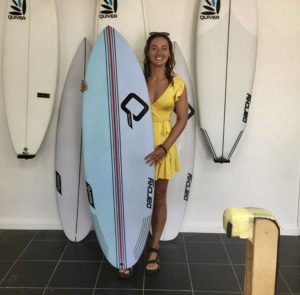 'Living in Newquay, with its abundance of boards and shapers, it's difficult to know who to go to. I wanted to support a local shaper, and head about 'Darchyshapes' through my partner, who recently acquired a 5'4 high performance twin fin beauty. It wasn't the board I was after, but it was a hell of an envy inducing bit of equipment. Even more so when I saw him flying down the point breaks in El Salvador. After witnessing first hand the fruits of his labour, I knew Steve was a shaper I could trust. We chatted about the surf, my ability, and what I wanted from this board. When chatting to a shaper, you need to be as honest as possible. Don't big yourself up beyond your capabilities. Steve prescribed me a 5'9, 21.5′, 2.56′ Quiver Board, constructed out of US Blanks Super Fused EPS Foam; The lightest, most air and water tight foam on the market. Hard wearing, air and water resistant, and perfect  for obligatory hot winter surf trips, with it's heat reflecting layers. Another bonus; it's recyclable too. With regular updates of my board in the Seabase shaping rooms, I was beyond excited. Stoked didn't cut it. 
When riding my board for the first time, I was not disappointed. The board picked up weaker beach break waves with ease. It's quick on the face, with no struggle making it past sections with the nippy thruster set up. I'm loving the feel of this board. It's been completely tailored to my style, moulding my vision into my ideal board. I'm already feeling a stark improvement in my surfing. I can't recommend Steve and the guys at Seabase enough.'